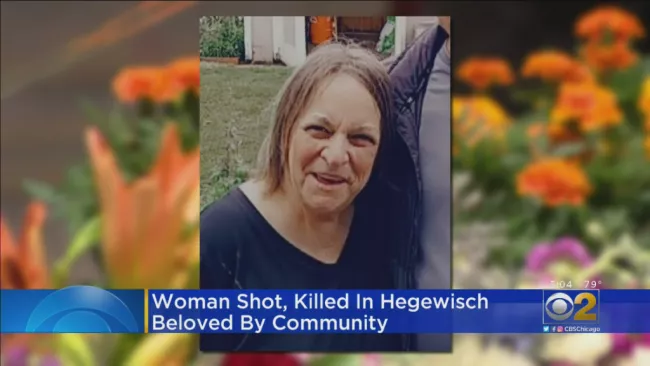 CHICAGO (CBS) — A 70-year-old woman was shot and killed while sitting in her car in Hegewisch early Monday morning.
As CBS 2's Meredith Barack reported, a memorial was set up outside the store where the victim, Yvonne Ruzich, worked. It grew throughout the day Monday – showing just how loved she was in the community.
Many are shocked that Ruzich was seemingly ambushed.
"My brother stopped by to tell my mom that he loved her, to have a good day at work – and she did the same," said Ruzich's daughter, Karla Ruzich, "and then this monster, monsters decided to take that away from all of us."
Indeed, a morning routine between mother and son interrupted by gunfire.
The attack happened around 4:30 a.m. in the 13300 block of South Baltimore Avenue. A witness told CBS 2 the shooting happened during an attempted carjacking.
"If you use a gun to kill an innocent lady, you're a coward." Neighbors have gathered to place signs and flowers outside Baltimore Food, Deli, and Liquor in Hegewisch where 70 year-old Yvonne Ruzich was fatally shot while sitting in her car this morning. @cbschicago pic.twitter.com/3u9KvUD5PQ
— Meredith Barack (@MeredithBarack) August 16, 2021
Ruzich's family said at the time of the shooting, she was parked outside Baltimore Food, Deli and Liquor for work, waiting for her boss to open the doors. Her family said she always showed up to work early.
Surveillance video shows the moments leading up to Ruzich's brutal murder. We are told three men were inside a car, when two got out, and approached Ruzich and her son sitting inside their cars.
Her son was able to get away, but Ruzich wasn't able to put the car in gear fast enough.
"The way that they disrespected my mother with that – she didn't deserve it," said Karla Ruzich.
Police said after Yvonne Ruzich was shot, she drove down the street and hit a stop sign. A witness said the gunmen then shot her several more times before speeding away.
She was pronounced dead at the University of Chicago Medical Center.
On Monday afternoon, many gathered outside of Baltimore Food, Deli and Liquor – leaving flowers and signs. Yvonne Ruzich's grandchildren drawing hearts for the woman everyone called "Gramma Jo."
Ruzich was a mother of seven, had several grandchildren and great grandchildren, and was loved by her partner, Phil McGivney.
"She was wonderful," McGivney said. "She was outstanding."
Ruzich's customers here adored her, and she looked forward to seeing them.
"She liked to come into work, and see the people in her community, see the people in her neighborhood and get to know them," said Karla Ruzich.
That is why what happened early Monday morning in front of the store has been so painful to so many. Ruzich's family is vowing to stop at nothing to make sure whoever is responsible is caught.
"None of that 'wrong place at the wrong time' stuff, no," said Karla Ruzich. "They are wrong. Whoever did this is wrong."
Late Monday, no one was in custody.
A vigil will be held at the scene at 7:30 p.m. Monday to remember Yvonne Ruzich.
Source:
chicago.cbslocal.com
By
News
on
Tue, 08/17/2021 - 01:09